PETITES FORMES 2018
RESULT
The final selection of the 2018 petites formes Acousmatic Composition Competition
was held on last Thursday, April 12 at the Saint Merry in central Paris,
with the presence of a very attentive audience.
The jury composed of 5 eminent members, congratulated the good level of the 3rd edition of the competition and selected the 6 following laureates of the 3 countries (France, Japan, Taiwan):

WU Yi-Chen 吳宜蓁 (TW): Constructing
– ex-aequo-
YAMAKADO Yohei 山角洋平 (JP): Transparency Litera
Julie MANSION VAQUIE (FR): Palingénésie
WANG Po-Yu 王柏又 (TW): asche
Loïse BULOT (FR): Noctiluca
CHEN Ding-Lian 陳定廉 (TW): Tumble
——
The Prize of Audience was awarded to Julie MANSION VAQUIE.
---
RÉSULTAT
La Finale du concours international de composition acousmatique petites formes 2018 s'est déroulée hier soir salle blanche, église Saint Merry à Paris, lors d'un concert public en présence d'une assistance fournie très attentive.
Le jury de cette finale, composé de 5 membres éminents, s'est d'abord félicité du bon niveau de cette 3e édition du concours, il a ensuite sélectionné les 6 lauréats suivants, qui seront joués dans les 3 pays (France, Japon, Taiwan) durant la saison prochaine.

WU Yi-Chen 吳宜蓁 (TW) avec Constructing,
ex-aequo
YAMAKADO Yohei 山角洋平 (JP) avec Transparency Litera et Julie MANSION VAQUIE (F) avec Palingénésie,
WANG Po-Yu 王柏又 (TW) avec asche,
Loïse BULOT (F) avec Noctiluca,
CHEN Ding-Lian 陳定廉 (TW) avec Tumble.
Le Prix du public a été attribué après vote de celui-ci à Julie MANSION VAQUIE.
---
PRESELECTION RESULT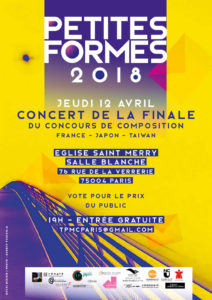 The preselection panel of the petites formes 2018 Acousmatic Composition Competition has chosen the 12 following pieces for the Public Final of the Competition, which will be held on 12th April – 7 pm  at Eglise St Merry – salle blanche – 76 rue de la Verrerie 75004 PARIS ; the audience prize will be awarded during the evening.
•  Iris Mugen Sky  
•  Transparency Litera
•  Cells  
•  Tropical Travelogue 
•  Tumble 
•  asche 
•  Constructing 
•  The Argentine Ants 
•  Noctiluca 
•  KAMI
•  Palingénésie
•  Traverser
Liao Lin-Ni, Mikako Mizuno, Christian Eloy, Tseng Yu-Chung and the Panel congratulate the winners of this preselection for the high musical standard of their works, and also congratulate all the composers who presented their work.
The members of the international panel were: (France) María Cristina Kasem, Julien Guillamat, Marco Marini, Nicolas Marty, Gérard Pape, (Japan) Asako Miyaki, Takeyoshi Mori, Tatsuhiko Nishioka, Yoshihisa Suzuki, (Taiwan) Chen Ying-Jung, Lin Mei-Fang and Tung Chao-Min.
The Finale concert will take place on 12th April  at the Centre Culturel de Taiwan à Paris – 78 rue de l'Université, 75007 Paris, to reward the 6 laureats; the Audience Prize will be awarded during the evening.
All of you are warmly invited to attend this event of final selection.
* Please register before at  tpmcparis@gmail.com   and your ID card may be necessarily presented for security reasons.
Tout Pour la Musique Contemporaine, France
Nagoya City University, Japan
National Chiao Tung University, Institute of Music, Taiwan
Centre culturel de Taiwan à Paris
Centre national de création musicale – Césaré
Conservatoire de la ville de Reims
Japanese Society for Sonic Arts
Le Cercle pour la Libération du Son et de l'Image
National Kaohsiung Center for the Arts (Weiwuying)
Association Octandre Bordeaux
Taiwan Computer Music Association